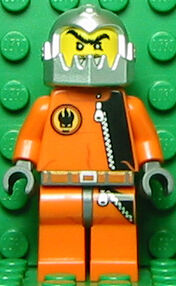 Break Jaw is one of Dr. Inferno's henchmen. He appears in sets 8632 Swamp Raid, 8633 Speedboat Rescue, and 8636 Deep Sea Quest. He also has the same jaw as the Magma Commander. In Swamp Raid, he has a treasure map. Agent Charge gets the map, but Break Jaw gets away in his boat. Next Break Jaw is sent on a mission to feed Agent Trace to the sharks. His plot is foiled, but he gets away again. Break Jaw's last mission is to retrieve the treasure with Slime Face. Dr. Inferno probably got the treasure because he must have used it as an energy source in Volcano Base. Break Jaw has not been seen after Mission 7, though a screen with his face on it is in Volcano Base.
Break Jaw is not a My Lego Networker.
He seems to be good with robotics, since he has appeared with Robot Sharks, and Robot Crocodiles at his command.
Break Jaw was going to appear in the Agents 2.0 set River Heist as a battle damaged version of himself, but Dollar Bill appeared instead of him.
Appearances
Edit
Community content is available under
CC-BY-SA
unless otherwise noted.